Coffee Morning and Exhibition
Saturday 30th September 2023 10am to 12Noon at The Lillington Club, Lime Avenue CV32 7DA. Displays of some local sports clubs and general Lillington history. Refreshments, sale of used books in good condition and home made jams. Free Entry, donations welcome.
Latest Newsletter
---
Up Coming Talks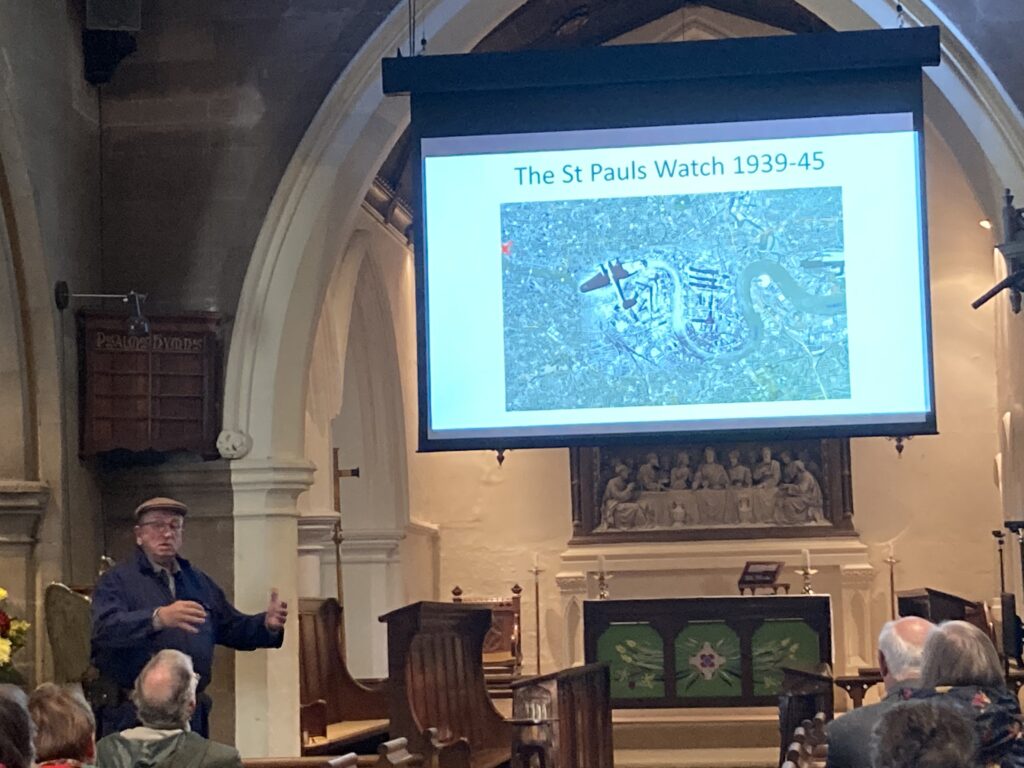 In person talks for 2023 & 2024 are as follows at St. Mary Magdalene Parish Church of Lillington (by kind permission) Non Members £1.50. Annual Membership of £12 includes FREE access to these talks. 4pm for a 4.30pm start.
2023
6th January The Fate of Lillington/Bins Brook and Lillington's other hidden water courses: Les Markham and Gary Timlin 3rd February Sir Henry Parkes (1818-1898): From Warwickshire to New South Wales: Sheila Woolf
3rd March Did Lillington have any Industries?: Peter Coulls
14th April Members' Afternoon: Short presentations by members about their early memories or personal research into local history 5th May David Morse's Pictures of Interest
2nd June William Gascoyne: The Ambitious Stonemason: Kevin Hunt
7th July A Medley of Mid-Warwickshire (including Lillington) Musicians: Les Markham
AUGUST No Talk
1st September AGM followed by Images of Valley road and surrounding areas: Peter Coulls & Les Markham
6th October A snapshot of Warwick Assizes: Larry Connor
3rd November The Christmas Truce of 1914: Alan Reed
1st December Leamington in Post Cards: Peter Coulls
2024
5th January Houses in Lillington & their Builders: Margaret Rushton & Chris Rhodes
2nd February Schools Under Pressure – Lillington & Telford 1955 – 1990: Chris Rhodes
1st March Warwickshire in the Nineteenth Century Stereo Photographs: R J Pryce
5th April The History of Billesley – A Warwickshire Deserted Village: Alan Bailey
3rd May Five Formidable Local Females: Margaret Rushton
7th June Bourton Hall – A Victorian Family Album: David Fry
5th July In Praise of the Turboprop – An Appraisal of the Lockheed Hercules C10K in RAF Service: Patrick Fitzgerald
---
Lillington's Saxon Church
Watch this video with commentary based on a talk given by Richard Taulbut to the Society in January 2020 and for Leamington History Day in September 2020 to mark the one thousandth anniversary of the Saxon doorway in Lillington church. This video is also available on YouTube
---
Enquire Within
Covering the period from 1881 to 1911, Larry Connor has compiled a selection of fascinating items from the Lillington School inspection reports which the Society holds. Find the report on the Enquire Within page.
---
Easter Challenge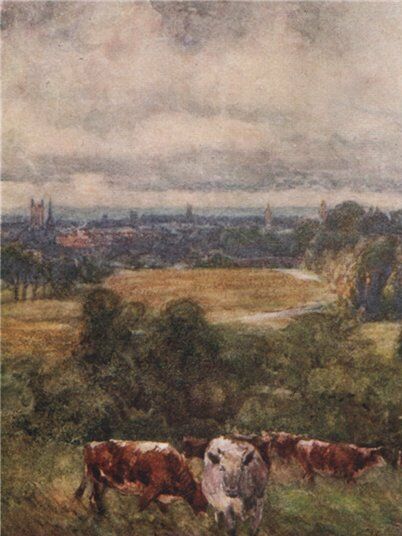 Following the success of the Christmas Challenge and the Lillington in Lockdown publications, for our Easter Challenge we asked you to look at this poster of three more views of Lillington: a view from the Campion Hills in 1906, the old Lillington school clock, and Crown Way Shops in the 1950s.
Members contributed personal memories, poems and stories suggested by the images. All the items sent in can be seen in this Lillington Easter Challenge Booklet.
And we would always love to hear about any of your Memories of Lillington that we can upload to the website. You can send items long or short, and anonymous if you wish, to LLHS, c/o Margaret Rushton.
---
Lillington in Lockdown
We are all very aware that we are living through a major historic event – the Covid-19 pandemic. In years to come, historians will have all the official documents they need to write the formal history of the times. It is equally important to record how ordinary people coped, how their lives changed, what they endured or came to appreciate even more than before.

Using the 'snapshots' written by members and friends, our newsletter editor, Chris Rhodes, has put together a written record of the impact on us in Lillington before we forget. The printed booklet is being distributed to members, or you can download Lillington in Lockdown, and some extra items in Lockdown Extra.
Remember queuing in the rain outside Quigleys' butchers, how neighbours came together, the empty shops in town, working from home with a schoolroom on the kitchen table, grandchildren missing their friends, the successful mastery of Zoom and much more, the positives and the negatives, it wasn't all doom and gloom, and including many contributions from younger members of our community.
---
From the Air
Take a look at our Gallery pages to see images of Lillington and district from the 1840's to the present day. This aerial view of Mason Avenue from the early 1960's was sent in by Peter Coulls. Click on the photo to see the full size image.
Here are more aerial views of Lillington and Leamington. Hover the mouse over each image to read the caption, or touch and hold on a tablet or phone.
If you have any any reminiscences, or any other interesting images we could add to these pages, please get in touch.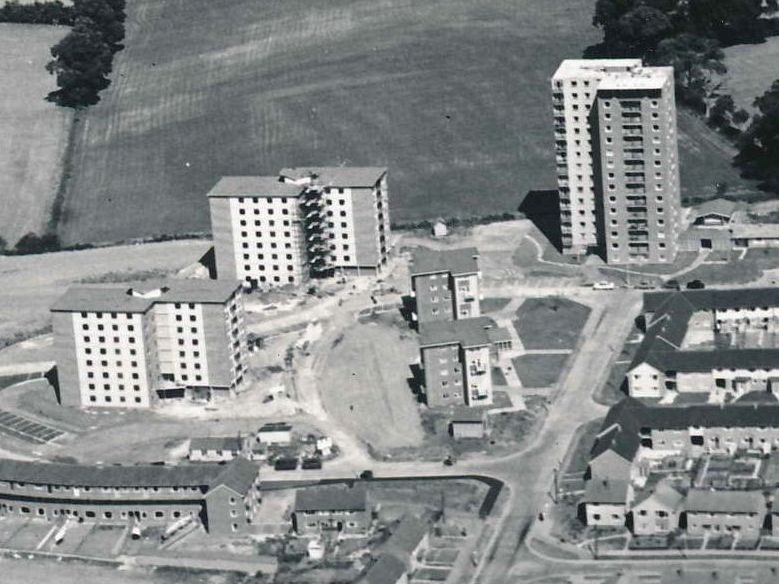 ---
First Zoom Meeting
Our first online meeting took place on Friday 6th November, 2020, with twenty four members joining via Zoom. Chris Rhodes gave a presentation on the early days of Lillington School, which you can download if you were not able to join us on the day.

---
Leamington's Victorian Legacy

Follow the history of Leamington's development during the Victorian Age, when many of its most famous landmarks came into being, in this the second new video produced by Leamington History Group.
---
Signs Appeal Success
Working with Royal Leamington Spa Town Council, Lillington Local History Society's campaign has been successful and 'Welcome to Lillington' and 'Lillington'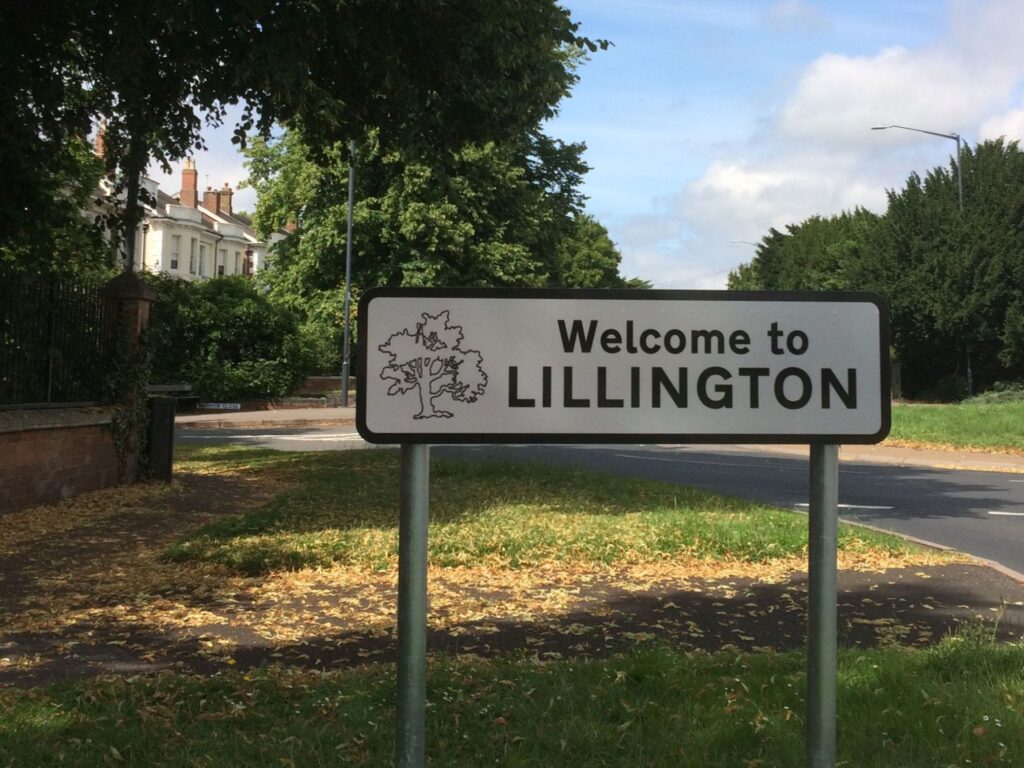 Lillington is signposted from every direction, but how could visitors know when they had arrived? Entry signage will help visitors and give a valued sense of recognition and identity for residents of our community.

Official permission from Warwickshire County Council was obtained, and the Town Council budgetted £1500 towards the total cost of the project, leaving the last £850 to be raised by the Society.

Members have been very generous, raising over £530 including Gift Aid, and we are very grateful for your support.

Our Lillington community has been recognised in a visible way for the first time. Thank you for your support.
---
Members Remember
We have been asking for your memories over the last few months, and every one submitted can be found on the website.
In June we asked for stories of your First Holiday.
As many of the the planned celebrations to mark the 75th anniversary of VE day on May 8th could not take place, we thought you might like to have a celebration of your own, by sending us your/your family's Memories of VE Day.
In April we asked what you remembered of your first day at work. You can see all the items sent in on here My First Day at Work.
And we would always love to hear about your Memories of Lillington that we can upload to the website.
You can send items to LLHS, c/o Margaret Rushton – a couple of sentences or a couple of pages, and if you have photos or drawings or press cuttings, so much the better!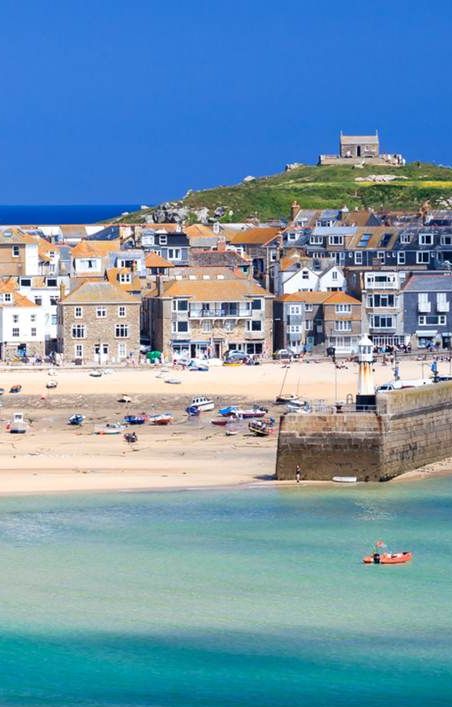 ---
Birth of a Spa Town

Leamington's transformation from a small village to a thriving spa town in the late 18th and early 19th centuries is retold in this new video produced by Leamington History Group.
---
Old Photos of Leamington from the Coventry Evening Telegraph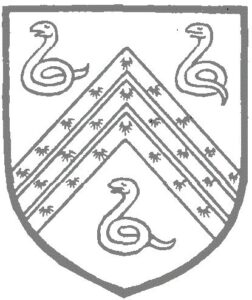 Some great photos of Leamington from the 1960s – 1990s published in the Coventry Evening Telegraph Coventry Live nostalgia gallery.
---
New Members Welcome
The Society has a growing membership and new members are warmly welcomed to our meetings. Membership subscription is £12 per annum or £1.50 paid at each meeting.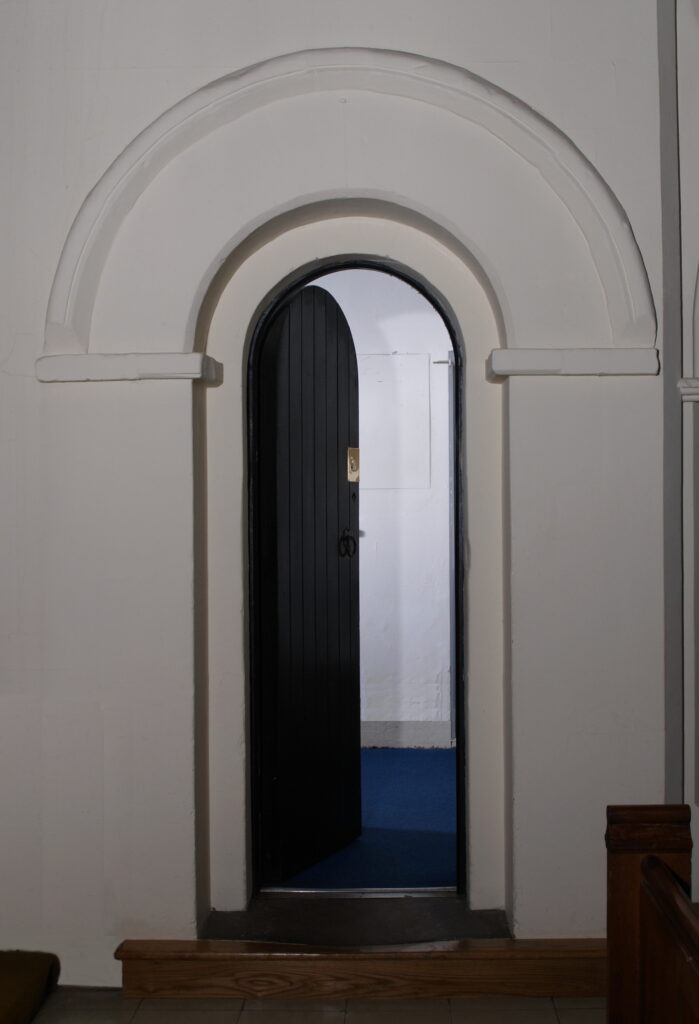 Members do not have to have any special expertise in Lillington and its history, but an interest in finding out about the area and taking steps to preserve it for future generations.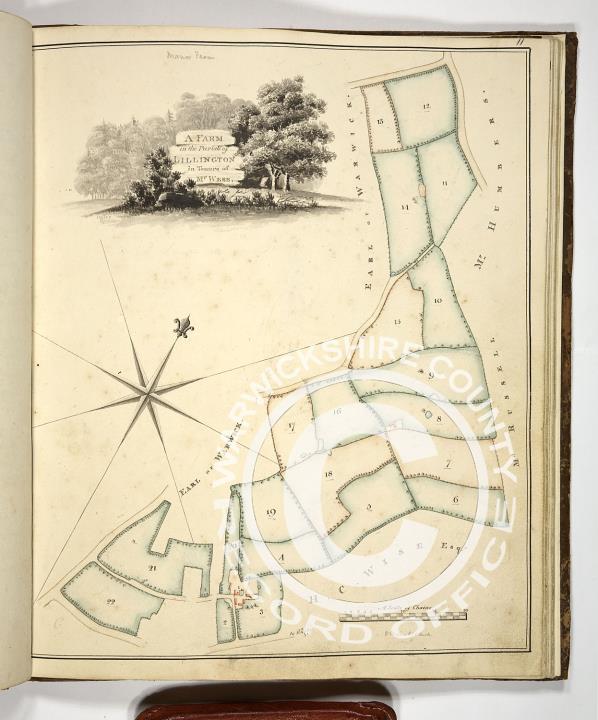 ---
Newsletter
We publish a newsletter three times a year, with articles, images and information about all aspects of Lillington history – buildings, people, places, reminiscences in A4 colour format. Editions from 2011 onwards are available to download here.
If you would be able to contribute an item, the editor will be pleased to hear from you.
Herbert Edward Cox was born in Coventry in 1870, and trained at the Coventry Municipal School of Art as a designer and draughtsman. After marrying fellow Coventrian, Margaret Shilton, they moved to 7, Manor Road, Lillington.
Cox taught painting at the Coventry Technical Institute (now the City College), and was soon recognised locally as an accomplished artist, recording street scenes of pre-war Coventry and many surrounding villages and towns.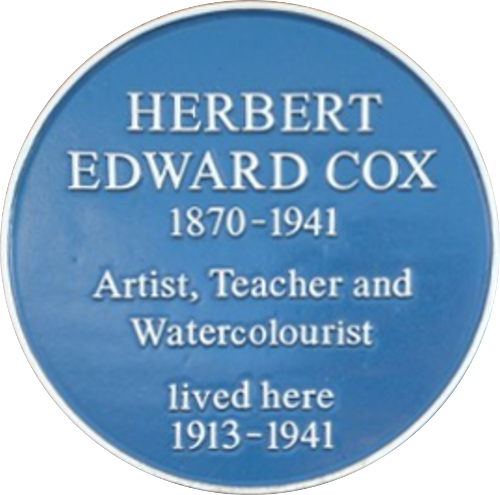 In September 2011 his contribution to art was recognized when a blue plaque was unveiled at the Lillington house where he lived for over a quarter of a century.
Herbert Edward Cox – A Coventry Artist – This 44 page booklet by Les Neil has been privately produced with a limited print run, costing £4.90 plus postage. Available from Peter Coulls.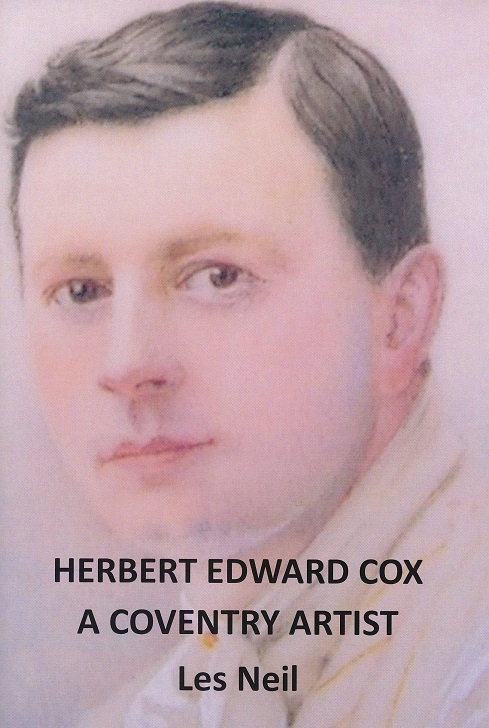 ---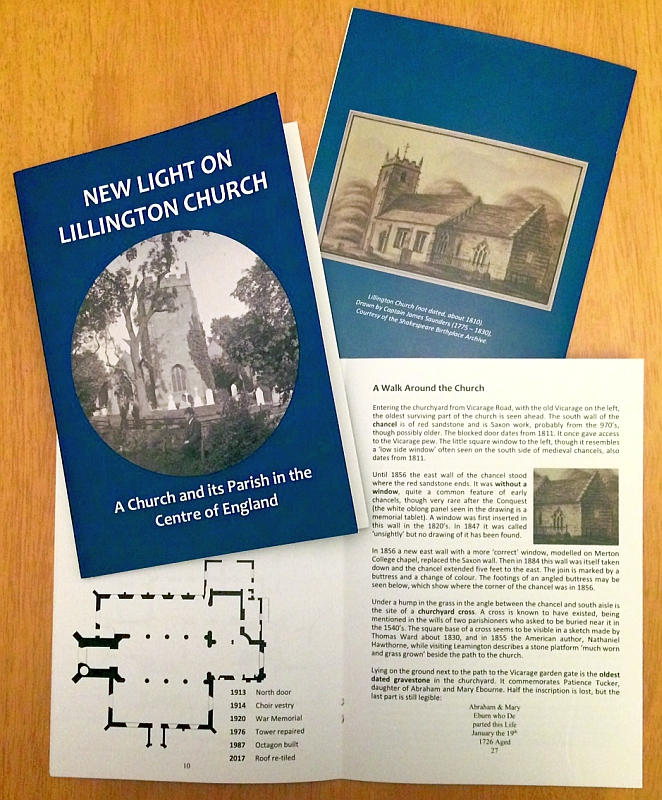 "New Light on Lillington Church" is an illustrated history and guide to the parish church of St Mary Magdalene, twenty four pages in colour and soft covers, price £3.75 including UK postage and packing.
Available from the author, Richard Taulbut, 9 The Greenways, Lillington, Leamington Spa. CV32 7AF. Cheques payable to 'Lillington PCC'.